Practical information
If you are a foreigner and plan a visit to the Faroe Islands – and to watch football here in particular – you will most probably find some information on this page coming in handy.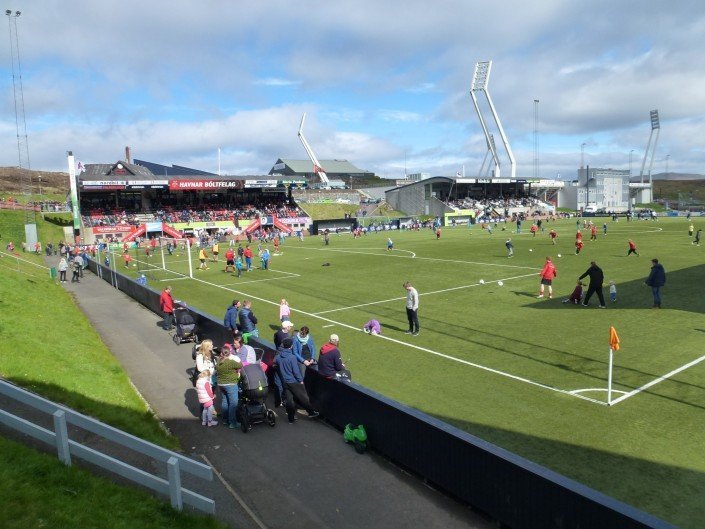 Attending a game
All pitches are covered with artificial grass. There are around 20 full size pitches in the islands. Some "stadiums" provide cover or protection from the rain: Tórshavn (HB and B36), Argir (AB), Trongisvágur (TB), Klaksvík (KÍ), Runavík (NSÍ), Eiði and Streymnes (EB/Streymur), Gøta (Víkingur) and Skáli (Skála). Others have just seats (approx. 400 people).
Gundadalur stadium is situated in a walking distance 10 to 30 minutes no matter where you are in Tórshavn. Next to Gundadalur stadium you will also find the National stadium, Tórsvøllur.
Basically it is always a good idea to dress for the weather – also when sitting under cover.
Kick-off times are decided by the clubs themselves, and sometimes the kick-off times are not official until 3-4 days before a game. Most common kick-off time in the best division (Betri Deildin) is Sunday at 15:00 (GMT). The easiest place to find the kick-off times is on www.fsf.fo or www.faroesoccer.com.
Around 300 to.1,500 people attend to a game normally depending the place, the competition and the importance of the game.
The entrance fee is fixed DKK 80,00 (approx. 10 EUR or 8 GBP) for ALL domestic league and cup competitions involving teams in the highest division. Lower divisions are most often free, and children 16 years or younger usually get in for free. You pay cash at the entrance – credit cards are (usually) not accepted, and you can sit or stand where ever you want, and you are free to move around when the game is being played.
You can enter a game during all the 90 minutes, often the second half is free of charge.
Entrance fee for international games – club and country – can be slightly higher, as rules – mainly due to UEFA/FIFA regulations – are stricter in these kind of games.
There is no violence and no "drinking culture" connected to games in the Faroes and police (on duty) are not attending domestic games. At half time kids usually run onto the pitch to play, and sometimes even the parents join them (see picture on top) 🙂
Following Faroese football in general
The easiest place or website to follow Faroese football – especially the basic stats about teams and players – is on www.faroesoccer.com. This website is currently only in Faroese, but for those used to read football stats, however, it should be pretty easy to navigate.
How to get there
Some useful links:
About visiting the Faroes in general: www.faroeislands.com (English version)
Flying to the Faroes: www.atlantic.fo (English version), www.sas.com
The only car ferry to the Faroes: www.smyrilline.com (English/German version)